Ladies of the Canyons: A League of Extraordinary Women and Their Adventures in the American Southwest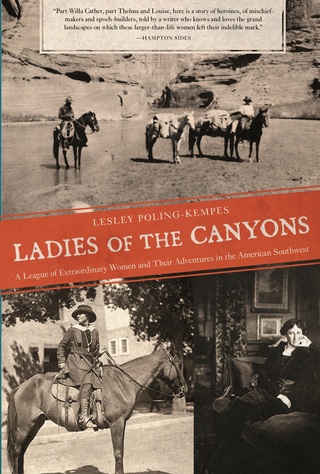 Educated, restless, and inquisitive, Natalie Curtis, Carol Stanley, Alice Klauber, and Mary Cabot Wheelwright were plucky, intrepid women whose lives were transformed in the first decades of the twentieth century by the people and country of the American Southwest. Within the wild, raw beauty of the high desert and mountain landscape these ladies imagined and created a new home territory, a new society, and a new identity for themselves and for the women who would follow them.

Their friends and cohorts were, among others, Louisa Wade Wetherill, Alice Corbin Henderson, Elsie Clews Parsons, the sisters Amelia Elizabeth and Martha Root White, Mabel Dodge Luhan, Margretta Dietrich, Mary Austin, Elsie Shepley Sergeant, and Willa Cather. Their adventures were shared with a cast of real-life characters – Theodore Roosevelt and Robert Henri, Edgar Hewett and Charles Lummis, Chief Tawakwaptiwa of the Hopi, and Hostiin Klah of the Navajo. Their journeys took them to Monument Valley and Rainbow Bridge, into Canyon de Chelly and across the high mesas of the Hopi, down through the Grand Canyon and over the red desert of the Four Corners, to the pueblos along the Rio Grande and the Hispanic villages in the mountains between Santa Fe and Taos.

Although their stories converge in the American Southwest, the saga of Ladies of the Canyons includes Boston's Brahmins and the Greenwich Village avant garde, New York's Armory Show and the birth of modern art, a president and Indian music, the Hopi Snake Dance at Walpi and the Ute battle at Cottonwood Gulch, the creation of San Diego's Balboa Park and Santa Fe's Museum of Art, Florence, Italy before World War I and Paris, France in the roaring twenties. Ladies of the Canyons is the story of New Women stepping boldly into the New World, of Anglo America waking up to Native America, of inconspicuous success, ambitious failure, and the often monumental personal challenges experienced by women and men during the emergence of the Modern Age.
"Poling-Kempes has done an admirable job scouring archives for these women, who have been largely left out of the historical record of the West. It's a kind of prequel to our common history of the Southwest, peopled by women with long skirts and cinched waists in the desert heat, riding cowboy style, trying to do right by the land they all loved." -- Carolyn Kellogg, Los Angeles Times

"We've long been told, boringly, emphatically, that the American West was 'won' by men, that it was essentially a male saga. Even from the beginning, everyone who had anything to do with it always knew this 'take' on western history was, at best, only half true. What has been generally lacking is great narratives about great western women, but here, in this fine, vivid volume, we have just such a tale. Part Willa Cather, part Thelma and Louise, here is a story of heroines, of mischief-makers and epic-builders, told by a writer who knows and loves the grand landscapes on which these larger-than-life women left their indelible mark."
—Hampton Sides, author of Blood and Thunder and In the Kingdom of Ice

"Lesley Poling-Kempes' command of social history, cultural anthropology, and prehistorical archaeology is evident throughout this volume. The lives depicted in Ladies of the Canyons: A League of Extraordinary Women and Their Adventures in the American Southwest is yet another narrative of lives well lived and a reminder that no person is an island."— Laurie Milne, Canadian Journal of Archaeology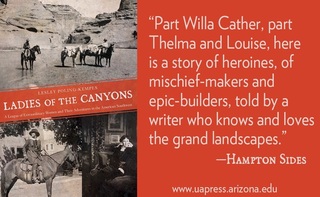 "Poling-Kempes's lively prose brings to life a chain of unconventional women who fell in love with the American Southwest. The author reconstructs the remarkable careers of the women who were the first 'New Women' of the Southwest long before Mabel Dodge Luhan and Georgia O'Keeffe arrived on the New Mexican scene."
—Carolyn Brucken, Curator of Western Women's History, Autry National Center of the American West

"Poling-Kempes weaves together remarkable tales of remarkable individuals and introduces a star-studded cast of friends, colleagues, artists, writers, musicians, a president, cowboys, and Indians."
—Christine Mather, author of Santa Fe Style

"I love a writer who teases out the connections from a tangle of sources, a writer whose fascination with her subject shows, who recognizes a deeper truth. And I have found a writer who does all that and then some: Lesley Poling-Kempes.

"Weaving individual threads into a larger picture, Poling-Kempes has created a narrative tapestry relevant to readers everywhere. . . . even readers who have never been west of the Mississippi will find themselves fascinated by these Ladies of the Canyons, who liberated themselves into lives of passion and purpose. In doing that, they loosened bonds for all of us." Susan Schoch, Story Circle Reviews