Works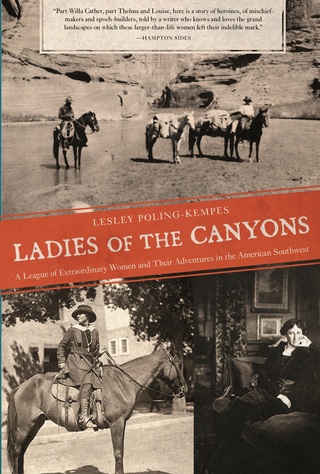 Educated, restless, and inquisitive, Natalie Curtis, Carol Stanley, Alice Klauber, and Mary Cabot Wheelwright were plucky, intrepid women whose lives were transformed in the first decades of the twentieth century by the people and country of the American Southwest. Within the wild, raw beauty of the high desert and mountain landscape these ladies imagined and created a new home territory, a new society, and a new identity for themselves and for the women who would follow them.

"Part Willa Cather, part Thelma and Louise, here is a story of heroines, of mischief-makers and epic-builders, told by a writer who knows and loves the grand landscapes on which these larger-than-life women left their indelible mark."
—Hampton Sides
2014 Willa Literary Award for Contemporary Fiction
Tony Hillerman Award for Best Fiction, 2013 New Mexico-Arizona Book Awards

"Lesley Poling-Kempes is deservedly known for her beautiful non-fiction books about Abiquiu and the Ghost Ranch area of northern New Mexico. Her second novel, Bone Horses, can only enhance her reputation. Her love of the land and its wild spirit shines through this tragic story with redemption at the end. It is a fine mystery, with complex twists and turns. Bone Horses is also a paean to the land and especially to its rare wild horses who symbolize all that is wonderful about our high desert country and all that needs our love and protection."
John Nichols, author of "The Milagro Beanfield War"
"Canyon of Remembering offers beauty in simplicity as it depicts a variety of people, licking their wounds from a variety of hurts, who come together to form a true community … Poling-Kempes writes with a quiet, seductive rhythm that makes readers warm to the peace she bestows upon her characters." -- Publishers Weekly
"Abiquiu is a cosmic village. Its story has always been about many kinds of people and cultures. Everyone who lives here was once an immigrant. Abiquiu is a private place, but its story belongs to the world." – Charles M. Carrillo
"A story that seems to have completely vanished from the national memory; for giving it new life, Poling-Kempes deserves gratitude and praise." -- Jonathan Yardley, Washington Post Book World
Southwest Books of the Year "Top Choice" award, 2005

"Poling-Kempes is a skillful writer, smoothly dovetailing the human stories that make up the narrative of this pristine, peaceful, and appealing place. The author flat out knows how to tell a good story." -- Richard Etulain
Winner, 2005 Independent Publisher Book Awards, Fine Art Category